What is Conversiobot About?
I saw ConversioBot Chatbot Creation Software being marketed through Facebook advertising and it looked interesting as a way to potentially increase business, so I looked further. AI (Artificial Intelligence) is a huge growth industry at the moment.
Who are Conversiobot chatbots for?
The Conversiobot chatbot is software that lets you create your own AI chatbot for your website to draw more leads to your business and improve profitability. It can also be used for customer service and to learn more about your traffic. You can better convert your website visitors into paying customers, and speed up customer resolutions with custom Conversiobot chatbots
The bots can be setup in the same way as Sales Funnels, but are much less complex, so are easier for a beginner to handle. They are best for bloggers or small business owners who want to get better lead conversion and subscriber sign ups. Anyone who has a website can use the software to set up and configure their own chatbot easily.
---
---
While this isn't exactly true Artifical Intelligence (AI), chatbots can be used on websites to promote your online business and get more leads and even sell your products. Just like a Sales Funnel.
Installing a ConversioBot Chatbot is a way to make the visit to your website a better experience and convert visitors better than just a plain conventional input form. A well written chatbot will outperform a standard input form any day of the week.
With this software, you could also set up your very own 'Chatbot Factory'! More profits for you.
There are many uses of AI chatbots
AI Chatbots have loads of potential uses and many different businesses can use chatbots. Here are some of the businesses Conversiobot Chatbots can be used for, among others (and there are Conversiobot templates pre-built in the system for most of these, so you'll have an out of box solution).
Are any of these your business types, or are your clients? :
Beauty Salons, Car Dealerships, Chiropractors, Cleaning Services, Conference Registration, Contact Services, Dating Agencies, Dentists, Doctors, Dog Trainers, Dry Cleaners, Electricians, Estate Agents, Family Lawyers, Florists, Gardeners, Graphic Designers, Green Energy Providers, Guitar Tutors, Gyms, Hair Salons, Handy Man Services, Health Insurers, Hotels, Human Resources, Insurance Brokers, IT Professionals, Language Tutors, Lawn Services, Making Money Online, Media Agencies, Mortgage Brokers, Music Tutors, Painter and Decorators, Personal Injury Lawyers, Personal Trainers, Pet Groomers, Photographers, Piano Tutors, Plumbers, Pool Maintenance, PPC Marketing, Private Investors, Property Rentals, Recruitment Consultants, Removal Services, Restaurants, Roofing Services, Self Help Groups, SEO Agencies, Travel Consultants, Vets, Video Editing Services, Video Marketing Services, Web Design and Hosting Services, Webinar Registrations, Wedding Planners, Weight Loss Consultants, Yoga Classes
So what is Conversiobot all about?
As I've said, Chatbots are NEW and rapidly taking over the Internet. If you use Facebook Messenger, it's very likely you've interacted with a Chatbot. Sometimes with a well designed and clever bot, it's actually quite hard to tell whether it's a Chatbot or a real human speaking to you!
Huge businesses are also now using Chatbots to interact with people on their Websites as well as through Social Media. It's a very powerful way, in 2021, for them to get more leads and sales without breaking the bank on Live Chat agent employees.
You are most likely to have seen a clever AI chatbot in action  if you've visited your banking website, or maybe when you've enquired about insurance.
You can also embed a Conversiobot bot inline in your web page. This allows you to use it as a sales funnel on your website. Just direct people where you want them to go by using the chatbot dialog. Very useful as a more engaging landing page or squeeze page for an affiliate or any online business, don't you think?
Can you think of a use for a chatbot on your own website? I'm sure you can.
Chatbots are still an Emerging Industry
There's now an emerging industry that's about to explode and can now be exploited by the average Joe, either by making AI chatbots for your own websites, or making and selling them to other people/businesses, so they can get more leads and that's where ConversioBot is potentially so useful and valuable to you.
ConversioBot covers both uses, so whether you're a website owner or an entrepreneur, this is good software for you.
Some Chatbot Stats
Mark Zuckerberg revealed Chatbots will be the secret to Facebook's success over the next TEN YEARS.
Billion dollar companies like Amtrak are already using chatbots to get ROIs of 800% or more.
By 2021, 50% of companies will spend more on chatbots than on mobile apps.
By next year, the average person will have more interaction with chatots than with their spouse (sad I know!)
Gartner predicts that chatbots will power 85 percent of all customer service interactions by the year 2020
48% of consumers would rather connect with a company via a live chatbot than any other mean of contact.
57% of consumers are interested in chatbots for their instantaneity.
35% of consumers want to see more companies using chatbots.
55% of consumers are interested in interacting with a business using chatbot messaging apps to solve a problem.
95% of consumers believe 'customer service' is going to be the major beneficiary of chatbots.
But how can YOU benefit from Conversiobot chatbots?
OK, but how can you benefit from chatbots? Well most businesses can't afford to develop their own chatbots from scratch. It's a highly sophisticated technology and it can costs tens of THOUSANDS of pounds to develop in-house. So they're looking for a ready-made solution, or someone to do it for them …
That's where this chatbot software will help you. ConversioBot allows all that to happen, and brings it into the skillset/price range of ordinary business owners/entrepreneurs, just like you and me.
---
Simon Wood (Co-Founder: ConversioBot)
Simon has over 23 years of experience in online marketing. He's a leading authority on Chatbots. He co-founded ConversioBot – one of the leading "AI" Chatbot platforms with over 6,000 active users.ConversioBot is the Internet's Number 1 Chatbot for Business Website Owners.
---
The Conversiobot Chatbot Builder system
The Conversiobot chatbot software comes with a simple drag-and drop chatbot builder allowing even a complete newbie to build a bot, without any technical knowledge or special skills.
It also comes with a range of what they call  "Done-For-You" chatbots (like the business list in red above) which are designed to get you more leads and more sales for your business. These are available from a library of pre-made chatbots (which you can then customise) if you pay for this option (worth it in my opinion).
You can connect ConversioBot chatbots with popular Email AutoResponder software to automatically add the email leads you capture to your own email list. Remember, the money is in the list right? Here's are the autoresponders it works with:
I have my chatbots linked to GetResponse.
ConversioBot in it's fullest form comes with a FULL Commercial License allowing you to sell your chatbots to other business owners if you really want to, as a service.
This could be another very lucrative income stream for you as there are a lot of businesses out there that do have a Website but DON'T have a chatbot on it. But, chances are you're just looking to install a chatbot for your own website(s) and that where this software really comes into it's own.
If you do a bit of research about the current market rates for chatbot development, the figures i've seen are £150-£400 for a simple chatbot, and obviously more as the project gets more complex. The Conversiobot chatbot lite software can be bought for only $27, so it's really cheap to get started and is worth buying just to play with a little. You haven't really lost anything if it's not for you (and you are covered by their money-back guarantee).

Conversiobot FAQ
Do I Need To Install Conversiobot On My Computer?

No. There's nothing to install on your computer. ConversioBot is Microsoft Cloud-based software with 99.99% uptime. You simply login to your Control Panel and access it online from anywhere, on any device.

Is Conversiobot Easy To Use And Is Training Included?

Yes. ConversioBot was built to be point-and-click simple. You can launch your first Conversiobot Chatbot in three simple steps, in a matter of minutes. We provide "over the shoulder" video tutorials for our Members. They're an easy watch.

Do I Get Conversiobot 'Done-For-You' Chatbots?


Yes. You get instant access to 10 high-converting Conversiobot Chatbot Templates spread across multiple categories and niches. They're all designed to get you more engagement, click, leads, sales and profit.

How Many Conversiobot Chatbots Can I Create?

You can create an Unlimited amount of Chatbots! Use them on as many of your Websites as you want. Your purchase includes a Multi-Site License as a special Launch Bonus.

Can I Sell The Conversiobot Chatbots I Create?

Yes you can. Your purchase includes a full Conversiobot Commercial License. That means you can sell the Conversiobot chatbots you create to your own clients. They will never charge a royalty. Just one sale could pay your one-time fee, and then some.

Does Conversiobot Software Work On Both A PC And A Mac?

Yes. It also works on mobile phones and tablets. All you need is an internet connection. However, for the best experience we recommend using ConversioBot on a desktop computer.

Will I Get Free Conversiobot Software Updates

?
Yes. Conversiobot automatically update our software with the latest patches. These are free for our Members.

Can I Create My Own Conversiobot ChatBots?

Yes. Use the drag-and-drop chatbot builder to easily create a custom ChatBot. You don't need to know anything about coding. It's point-and-click simple.

Is There A Monthly Fee for Conversiobot?

No. You can use ConversioBot for a low One Time fee. It's a Launch special. There are no monthly subscription charges or hidden fees. However, once the Launch ends we plan to start charging a monthly fee to new customers. So order Conversiobot today to lock-in access for the low One Time price.

How Do I Get Support for Conversiobot Software?

Our Dedicated Support Team are at your service. They'll help you with any general, technical or billing queries.
As part of my ConversioBot review, I decided to try out the ConversioBot software.
I signed up for an account with ConversioBot to see whether it was indeed possible to create a chatbot for myself and evaluated the chatbot software to see exactly how good it is for the purpose of this review.
I always like to do 'hands on' reviews if I can, so I can write about the more complete experience. I don't promote or recommend anything I have not used myself, that's just my method.
ConversioBot Lite v ConversioBot Pro
The basic level of access comes with the ConversioBot Lite version of the software. This is priced at $27. Then there's then a Pro version for only $10 more. This gives you more features which you may or may not find useful, it depends what you need to do. You can add any of the upgrades later if you need them.
Here's what you get with both and the differences :-
And here are the extras you get with ConversioBot Pro (on the right)
The difference in price between the two is actually quite minimal and a no brainer. Get the pro version.
ConversioBot Lite is $36 (discounted to $27)
ConversioBot Pro is $67 (discounted to $37)
I think the Pro features are well worth paying the extra $10 for. Certainly the unlimited number of chatbots and the multi-site licence was worth it because I have several websites myself, including some client sites who will be very interested in having a chatbot for themselves in the future for sure.
The big bonus for me though is The Full Commercial Licence to actually sell the chatbots I've built.
What is the chatbot signup procedure like?
The signup procedure was quite a simple one, although as is usual with this type of offer there were several upsells to get through first. This might make you bristle a bit, but you can safely ignore them until you want to evaluate the software further and really expand the capabilities.
To it's credit, the upsells had plenty of information included so they could be evaluated, and as I always do, I reject them and take another look later once I find out whether the program is going to be valuable to me. You can always upgrade later. Each of the upsell screens has a 'No thank you' option at the end and once they have been navigated, a username and password is issued for you to log in.
(I've actually now added ALL the modules over a period of time from within the ConversioBot site after evaluating them).
The ConversioBot Dashboard
The Conversiobot Dashboard is very clear, with the main area offering hundreds of instructional videos for the new starter. These are presented by Simon Wood and are very concise, with no fluff or extra waffling that you sometimes see with this type of product.
Simon is very eloquent and gets his training over with the minimum of fuss. It's one of the big plusses of buying the software and why i've included it in this ConversioBot review. It's the crucial part to get you going.
The Main Intro video is slap bang in the middle of the Dashboard and can't be missed. Simon does a good job of demonstrating how easily the platform works and how to find the various chatbot development features.
The main menu is located to the left hand side of the screen and is the quick and easy way to navigate to all the different parts of the chatbot software. This works very well.
The bottom of the Conversiobot Dashboard screen also gives information about the parts of ConversioBot you have bought and that are currently Active.
As can be seen here, I bought the ConversioBot Pro option and have then also upgraded and also purchased the Done-For-You Pro option (and later the ConversioBot Extreme Option as well).
You can further upgrade on the Active Products graphic by just clicking the link below each option.
Conversiobot Auto Chatbot Builder
This option is nice to have if you're feeling ultra-lazy, but learning how to actually build the chatbots is half the fun, so I didn't get this module. I can imagine though, if you need to create a bunch of bots at speed (maybe as an agency?) this will become more useful.
What is the chatbot – ConversioBot Extreme?
This gives extra control over when the chatbot comes to life for the user, and lets you limit the number of times it's seen by each visitor.
You can also get your chatbot to pop up if anyone goes to leave your page – just an extra opportunity to engage them.
What is the chatbot Conversiobot Agency License?
This is where i'll probably be heading in the future. The Agency License allows you to build and sell chatbots. If you really want to invest in the future of chatbots and potentially use them to scale your business, this offer makes a lot of sense and will open up new opportunities for you.
Once you've watched the ConversioBot Chatbot Masterclass video it will all started to fall into place. Building a Chatbot Agency is the way to go if you want to make serious money in this niche.
Conversiobot Main Menu

Dashboard – The Home of ConversioBot
My Bots – List of Your Active Bots
ChatBot Templates – Free ChatBot Templates that you can use
ChatBot Training – Video Section Explaining How to Setup Your Chatbots
Advanced Training – More Advanced Video Training
Bonuses – Webinar Videos Dealing With Advanced ChatBot Techniques
Data and Analytics – Reporting Facility For your Chatbots, showing performance, goals reached, etc.
General Settings – Setup Of Market Automations, Webhooks, Branding and Language
VIP Support – 24 Hour Customer Support Form
My Profile – Password Management
Log Out
There is also a top menu which will give you alternative access via shortcuts to any upgraded options if they are available to you, depending on the Active Products you have.
ConversioBot has a template library of ready made bots you can use and modify
Here's a sample of some of the chatbots included. Once inside, to Preview how it works in the program, click the 'Preview' option. If anyone wants to see a particular chatbot in action, just contact me.
To use and modify the template to suit your needs, just click the 'Use Template' option.
It will then be copied into the 'My Bots' area of your account where you can then customise it for your own use.
Conversiobot – My Bots
Modification of the custom chatbot can then be done in the graphical editor (shown above). Building a chatbot is actually quite a simple matter of defining a bunch of functional modules and then joining them together to make the chatbot conversation 'flow' from one module to the next.
The chatbots can ask questions, collect information such as email addresses and names, provide links to files, redirect visitors to web pages, and do all the tedious things that you could automate in your business to help drive traffic and leads, sell affiliate items or just enhance user experience on your own site.
The big benefit is, the chatbot works 24/7.
You can even embed chatbots in web pages (with ConversioBot Extreme) by using iframe code, provided when you set the chatbot up.
What is the chatbot Instruction Set for a Block?
This is how you construct the chatbots and define where the conversation goes. The user response button allows you to branch behaviour and ask questions. The response then re-routes the chatbot to the appropriate flow.
I purchased this as an extra and got access to another huge selection of templates that the people at ConversioBot have pre-designed.
This gets you another 80+ chatbots that you can modify for your own use, with examples. You can easily tweak them to suit. Here's a selection of chatbots for Health Care for example.
---
Chatbot Training Videos are Included
Simon Wood has created training videos for all of the major parts of the program, which I encourage anyone buying the program to watch before you go any further.
They'll make things so much easier for you and let you see what is the chatbot used for (although it really is all very intuitive anyway).
Opportunity to set up a Conversiobot Chatbot Agency
Conversiobot also has a webinar that showcases how to set up a complete ConversioBot Chatbot Agency business using all of the 'done for you' modules.
The ConversioBot Masterclass webinar is regularly broadcast to up to 200 people at a time, and when I watched it there were 195 people in the room with me, so it's a business opportunity that a lot of people are looking at.
It seems that this chatbot software is probably the easiest way people can break into this industry and get a chatbot built for themselves, or a chatbot agency set up for a cost of less than $300, with a website included, which is pretty phenomenal.
Will ConversioBot Work with my website?
ConversioBot works with many different website builders and platforms, including all of these, so you can integrate a chatbot pretty much anywhere you need one. If you have built your own website, you'll be familiar with these names. If a web building company has built it for you, they'll easily integrate it to your site.
Summary of the ConversioBot Chatbot System
I hope you can see how easy the chatbot software is to use from my ConversioBot review. It's all very logical and you will be able to create a lead gathering chatbot for your website in a couple of hours. The possibilities are endless really.
The only minor gripes I had was that some of the website screens on the ConversioBot site didn't quite render correctly in my browser (Safari), but that's only a small problem that can easily be overlooked, and in fact it's been fixed now (you'll get very good support from Simon and the team).
It also doesn't really work well in design mode from a phone or tablet, so you'll need to run it from a full laptop or desktop computer. The chatbots however will run on all of these platforms with no problems, and can appear as full page chatbots, embedded in pages or running from an icon at the bottom of a website (or all three at once).
The best way to experience the chatbot software is to watch the presentation videos here and see for yourself what is possible.
After reading this Conversiobot Review, you'll be able to design chatbots yourself that do similar or even more complex things very easily and if you're looking to take it further and branch into creating chatbots for others, ConversioBot certainly looks like it can do the job for you and also help a lot with your initial setup and launch.
My ConversioBot Review rating is a 9/10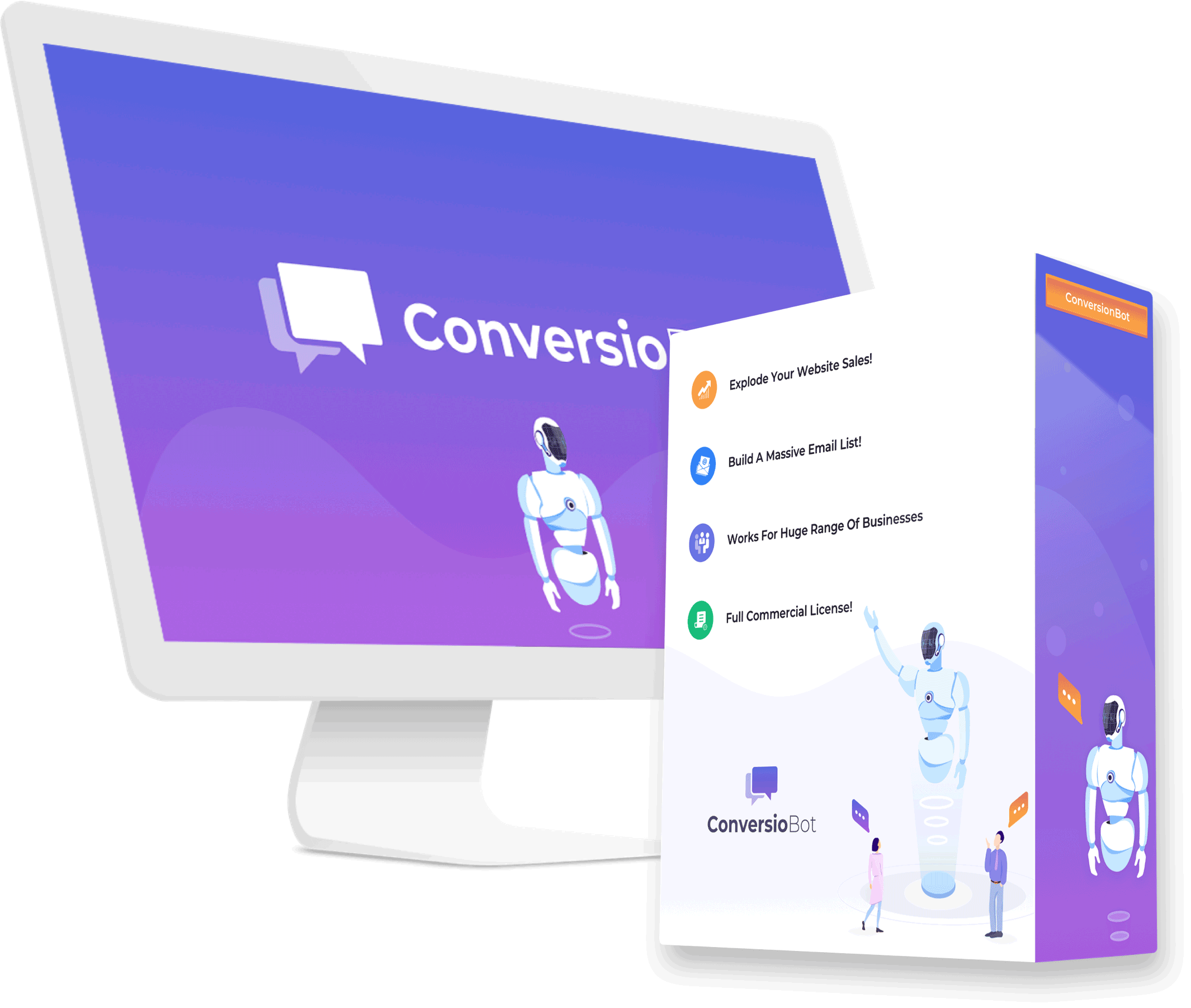 Here is what most people do next.
(Visited 624 times, 1 visits today)